Sam Johnson
Upright Bass, Electric Bass, Piano, and Guitar. Jazz, Classical, Pop, and so much more...
619-847-7409
Pop Nouveau Jazz Group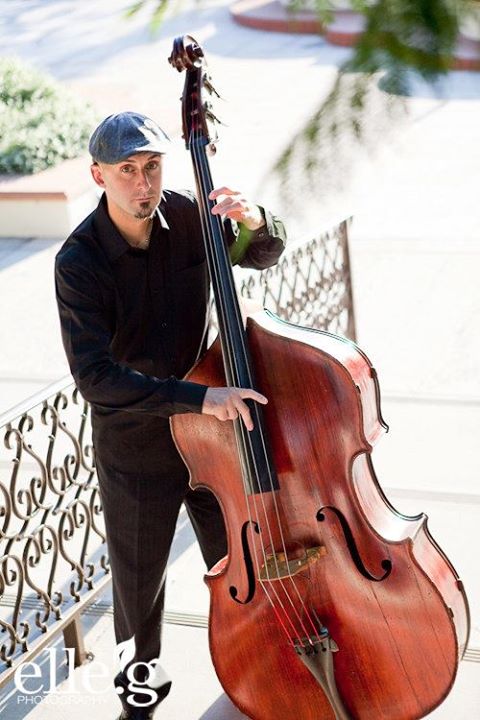 BIO:
Sam graduated from the University Of Miami in 1999 with a bachelor's Degree in Jazz and Studio Music on Electric Bass. While bass was not his first instrument, it became is favorite. His first musical experiences were singing in the church choir with his mother, then at the age of 8 he started Piano lessons. In 5th grade Sam joined the school band on Clarinet and by High School was playing 1st Chair.
In 7th grade he showed up to Jazz Band one day by accident and has been playing bass ever since. Through his years in Junior High and High School he has had a fascination for learning instruments and when the opportunity came up he tried nearly all of them: Bass Clarinet, Guitar, Trombone, Baritone, Trumpet, Aux Percussion, Soprano Sax, and Tuba to name a few. With over 30 years of musical experience, he is a very well rounded musician.
After working cruise ships around the world and living and working in Miami, Sam decided to move to San Diego in May of 2000. Opportunities arose that allowed him to purchase an upright bass and while over the years he was forced to study "the bear", he was never able to "tame it". Now that he had one of his own it was time and he started studying with world renowned bass player, Joe McNalley, where he developed both his jazz and classical skills on the instrument (and he is still "Taming the Bear" with great success!).
Currently Sam is teaching at Poway, Mt Carmel, Del Norte, and Westview High Schools as the Orchestral Bass Coach, and at Bertrand's Music Monday through Thursday (teaching electric bass, upright bass, guitar, piano, music theory, and composition). He is a member of the Music Teachers Association of California and the San Diego Chapter of the Musician's Union. Sam is also a highly sought after professional freelance bass player in San Diego, working with anywhere from 5 - 10 musical groups at any given time, sometimes traveling all over the U.S. and Mexico.
Current Groups:
Stepping Feet - Dave Matthews Tribute
Pop Nouveau - Modern Jazz Group
Ultimate Muse - Muse Tribute
Anthony Garcia - Flamenco Guitarist
Scot Taber - Spanish Guitarist
James Romeo - Jazz Flutist
Sam Johnson Jazz Group - Jazz Standards
---
TEACHING STYLE:
Sam Johnson is a patient and caring instructor with years of performing and teaching experience. He has a Bachelor's of Music in Jazz and studio music from the University of Miami. In addition to his teaching career, Sam works with several professional bands in San Diego; performing Jazz, Rock, Blues, Pop, Flamenco, Classical and many other styles of music.
MATERIALS USED:
Hal Leonard Guitar Method Book 1, Book 2, Book 3; Mel Bay Guitar Method 1, 2, 3; Hal Leonard Bass Method 1, Book 2, Book 3; F. Simandl Bass Method 1, 2; John Thompson Piano Series; Snell Fundamentals of Piano Theory Series
---
Below are the lessons openings for Sam Johnson. Please find a time below and click the "register" button to sign up for a class.
AVAILABILITY:
Monday
Register
Class
Tuition
3313770
Monday 3:00 Lesson
Monday 3:00 Lesson
35.00
3513513
Monday 3:30 Lesson
Monday 3:30 Lesson
35.00
3513599
Monday 4:00 Lesson
Monday 4:00 Lesson
35.00
3513600
Monday 4:30 Lesson
Monday 4:30 Lesson
35.00
3513604
Monday 5:00 Lesson
Monday 5:00 Lesson
35.00
3513607
Monday 5:30 Lesson
Monday 5:30 Lesson
35.00
3513609
Monday 6:00 Lesson
Monday 6:00 Lesson
35.00
3513610
Monday 6:30 Lesson
Monday 6:30 Lesson
35.00
3513611
Monday 7:00 Lesson
Monday 7:00 Lesson
35.00
Tuesday
Wednesday
Thursday
Register
Class
Description
Tuition
3513709
Thursday 3:00 Lesson
Thursday 3:00 Lesson
Time Slot Available Starting 11/2/15
35.00
3513713
Thursday 3:30 Lesson
Thursday 3:30 Lesson
35.00
3513716
Thursday 4:00 Lesson
Thursday 4:00 Lesson
35.00
3513717
Thursday 4:30 Lesson
Thursday 4:30 Lesson
35.00
3513720
Thursday 5:00 Lesson
Thursday 5:00 Lesson
35.00
3513722
Thursday 5:30 Lesson
Thursday 5:30 Lesson
35.00
3513723
Thursday 6:00 Lesson
Thursday 6:00 Lesson
Time Slot Available Starting 11/2/15
35.00
3513726
Thursday 6:30 Lesson
Thursday 6:30 Lesson
35.00
3513727
Thursday 7:00 Lesson
Thursday 7:00 Lesson
35.00
Waitlist
Don't see the class time you are looking for? Sign up for this teacher's waitlist below.
Register
Class
2901805
Waitlist
Register
Waitlist