Bertrand's offers
Quality craftsmanship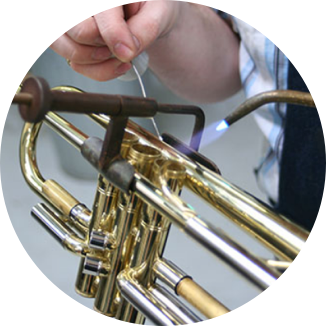 Our Shop
Our state-of-the-art repair facility is one of the best in the country. Bertrand's Music has thirteen professional repair technicians who service band and orchestra instruments. Each year we service over 15,000 instruments.
Services

Professional Technicians
We service all band and orchestra instruments from student to professional. Our technicians focus on bringing your instrument back into perfect playing condition.

Ultrasonic Cleaning Machine
Our facilities also have Ultrasonic Cleaning machines which utilize special sound-wave technology to effectively clean brass instruments without using harsh chemical treatments that can harm the environment.

Pro Shop
We have been named a Selmer and Yamaha Shokunin Pro Shop--an honor earned by fewer than 1% of repair shops.
Contact Us
Our Corporate Office
1570 Cherokee Street, San Marcos, CA 92078
1-888-780-1812